How to Reduce Shopping Cart Abandonment by Improving CX
Explore our ebook to tackle the challenge of a 69.57% average cart abandonment rate. Learn how to create engaging, personalized digital experiences that offer easy information access and a frictionless purchase path. Discover strategies to optimize complex customer journeys while keeping them simple and navigable, ultimately boosting your conversion rates and sales.
Reduce cart abandonment and increase revenue with AI-driven optimization.
Improve CX and UX for a seamless and delightful shopping journey.
Leverage AI-driven experience optimization for real-time adaptation and personalization.
Transform Your E-Commerce Experience to Minimize Cart Abandonment
This eBook explores:
AI-Driven Experience Optimization: Automatically adapt and personalize digital experiences based on live customer behavior.
Behavioral Insights: Understand the top reasons for cart abandonment and address them with targeted strategies.
Continuous Adaptation: Evolve personalization strategies to delight customers, reduce friction, and drive conversions.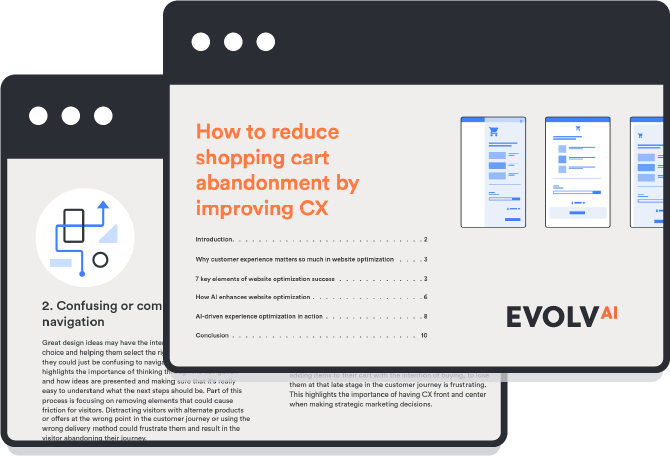 Boost Sales and Reduce Cart Abandonment with AI-Driven CX Optimization
Adapt in real-time, personalize experiences, and improve CX to engage customers, drive conversions, and maximize each customer interaction.