Next-Gen CRO Methodologies For Experimenters
Need more predictable conversions? In the internet's early days, simple designs led by specialized "webmasters" were the norm. As online conversions became vital, brands shifted focus to optimizing user experience. Today, from A/B testing to AI-driven models, this guide offers insights into diverse testing methodologies, steering readers towards holistic digital experimentation for optimal online success.
Understand the evolution of CRO methodologies and their impact on experimentation.
Learn how to choose the right testing approach for your specific needs and capabilities.
Discover how AI-powered evolutionary testing can help you continuously increase conversion rates.
Revolutionizing CRO with Next-Gen Methodologies for Predictable Conversions
In this eBook, you will learn:
Evolution of website testing methods
AI-powered website testing
Evolv AI's Active Learning System
How to choose the right testing method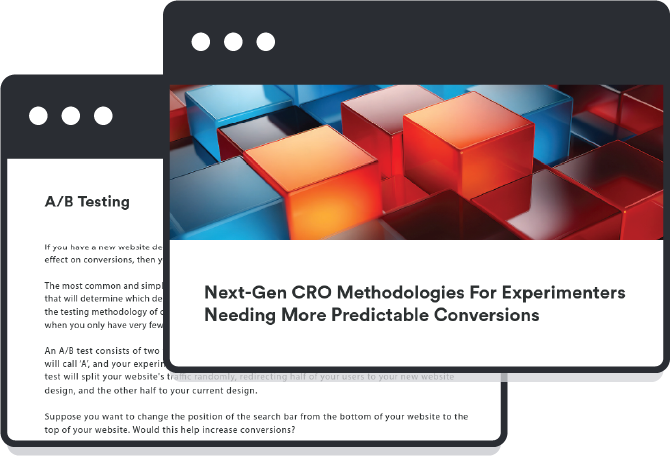 Download Our Guide to Next-Gen Testing Approaches for Experimenters
Unlock the full potential of your experimentation efforts with next-gen CRO methodologies. Learn how to choose the right testing approach for your needs and leverage AI-powered evolutionary testing for more predictable conversions.